On Saturday 11th November 2017 we held our first Gogo Fun Games Day, and it was just that a day of fun and games for 150 Phakamisa Gogos who were able to attend the event. An opening ceremony in PMC Church, the team (red, green, white, yellow and blue) then headed out of the building, across the road and down onto the playing field of Pinetown Primary School. The gogos warmed up with an aerobics session and then followed the soccer tournament.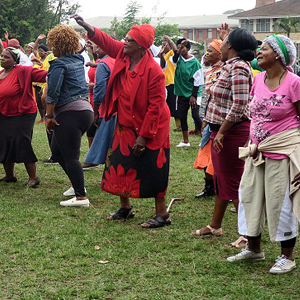 Relay, egg and spoon, 200-metre races, skipping, hula-hoop were the events with the netball tournament ending the games.
It was a noisy, warm atmosphere on a South African winters days (rainy and cold) with our gogos fully immersing themselves in either participating in or cheering from the sidelines.
Energy boosting fruit was distributed during the morning, with a lunch of chicken, chakalaka, steam bread, cooked and served by PHAKAMISA staff.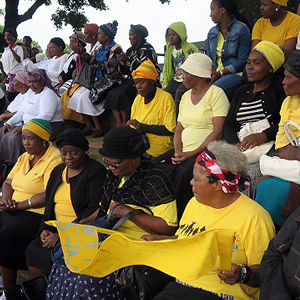 Medals were handed out to the winning team (yellow) and the Woman of the Match for both netball and soccer.
The first Phakamisa Gogo Fun Games Day was a huge success and testament to the planning and organisation by Thokozani and her team.